Alderman JR Patton is a hold over and loyalist to now former Calumet City Mayor Michelle Qualkenbush who is also an acolyte of troubled City Clerk Nyota Figgs. According to an article, Patton engaged in intimidating an auditor performing a forensic audit of the city and offered to send her "dirty text messages." Besides being completely unbecoming of an elected official, Patton's actions could comprise a violation of the Illinois Public Accounting Act.
The article posted in Edgar County Watchdogs, provides good background on the controversy surrounding Figgs and Patton, a matter that we have been reporting on as well. The new Mayor, Thaddeus Jones, secured an accountant to conduct an audit of city finances of the former mayor. The audit was approved by the city council.
Clerk Figgs and Alderman Patton have resisted the audit, filing unsound motions in court, destroying documents and putting up a smokescreen of allegations and stunts in effort to distract from the findings. Figgs who aspires to run for higher office, hired a political pr firm to conduct messaging. A local writer of a prominent Chicago paper who has long opposed the new mayor, penned a hack job meritless story to bolster the efforts of Figgs and Patton.
According to the article, Patton sent a stream of emails and text messages to the auditor which comprised intimidation and likely harassment (see below).
Alderman JR Patton wrote in an email to the auditor who was trying to secure information, the following,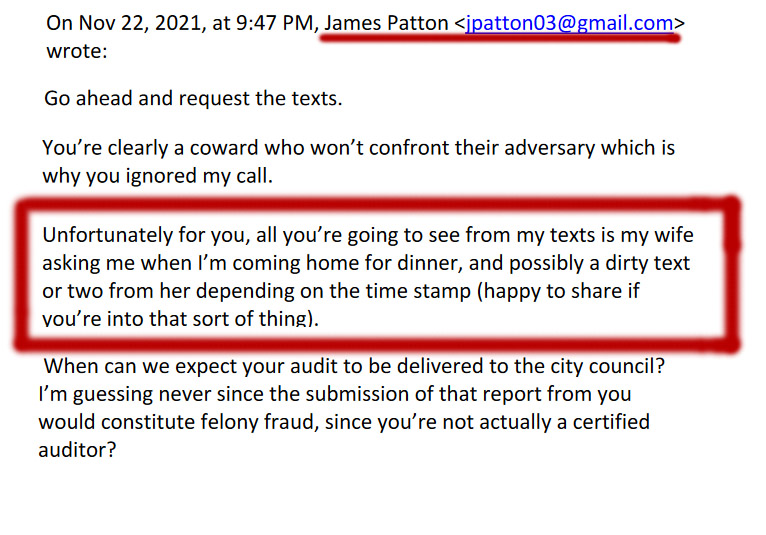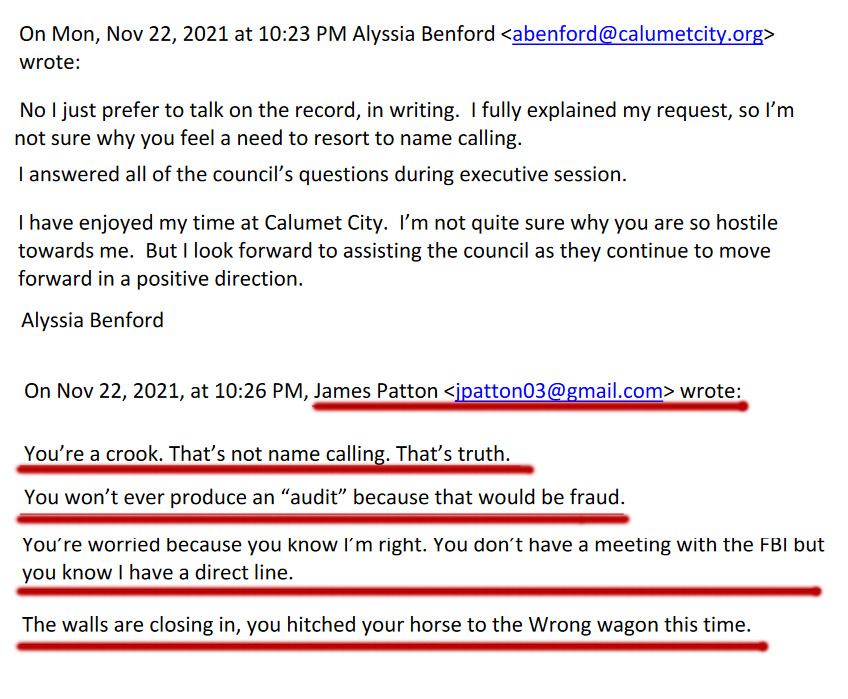 It is challenging to determine where and how Alderman Patton decided that it is ok to communicate with a professional woman conducting an approved task in a manner such as this. His behavior is demeaning and stands as an embarrassment to Calumet City. It would be better for JR Patton to join in support of the progress being made instead of bullying and playing political games.