According to a database maintained by the US Small Business Administration and supported by a second online database, Monet S Wilson applied for and received $89,665 in tax payer dollars from the Paycheck Protection Program funded under the Cares Act, an emergency measure designed to support small business during the COVID-19 pandemic. Wilson is the 2nd Ward Alderwoman and is now running for a seat in the Illinois House of Representatives. Given her status as a sitting elected official and now her campaign for higher office, some ethical questions arise.
According to the public records, Wilson claimed to be a sole proprietor of 3 different businesses which she operated from her home. The loan payout amount implies the businesses had payroll expenses and revenue of at least $430k in a single year, according to SBA calculations.
One of the businesses entities is a sole proprietorship engaged in providing "sports and recreation instruction." The business is less than 2 years old and purported to employ 4 people who each received an implied compensation of $72k in the program year. Wilson enjoyed a $60,500 payout from this application according to the records as shown below.
An application submitted and approved in April of 2021, pertains to a "cosmetics, beauty supply, or perfume store" sole proprietorship. This resulted in a payout of $12,500 being made to Wilson. This sole proprietorship purportedly operates in "unit B" within the residence. Hers is a single family home as reported by realtor.com
Another application associated with a sole proprietorship also operated by Wilson at the address provided "graphic design services." This application brought in $16,665 to Monet. Oddly, the application claimed that just $1 was used for utilities.
The applications do not report a business name or DBA for any of the entities. None of Wilson's public biographies including her Aldermanic campaign website and the official Calumet City website, cite her being a small business owner with three for profit sole proprietorships. Her most recent candidate statement of economic interest does not list any business interests.
A FOIA request was submitted to Calumet City seeking information about any business licenses associated with entities owned and operated by Wilson. The request was completed by the City and the results showed that no business license applications were submitted by or approved to Monet.
The PPP Loan program was designed to help small business remain afloat during the economic dislocation caused by the covid-19 pandemic. It was funded under the Cares Act and ultimately comes from the pockets of hard working families with jobs who pay their tax bills. This means you.
As a sitting elected official who now wants to occupy a higher office which involves writing laws the rest of us are expected to follow, Monet should have an open discussion about the business entities claimed on the submitted PPP loan applications and why there are no business licenses on file with the city.
That discussion should also explain why she feels entitled to $90k in cash from tax payers when she already had a full time income from a state funded job.
As an office holder and now candidate for an even higher office, our community is owed a thorough explanation.
More can be learned about Wilson's bid for higher office at www.monet4staterep.com
Sources:
https://www.federalpay.org/paycheck-protection-program/monet-wilson-calumet-city-il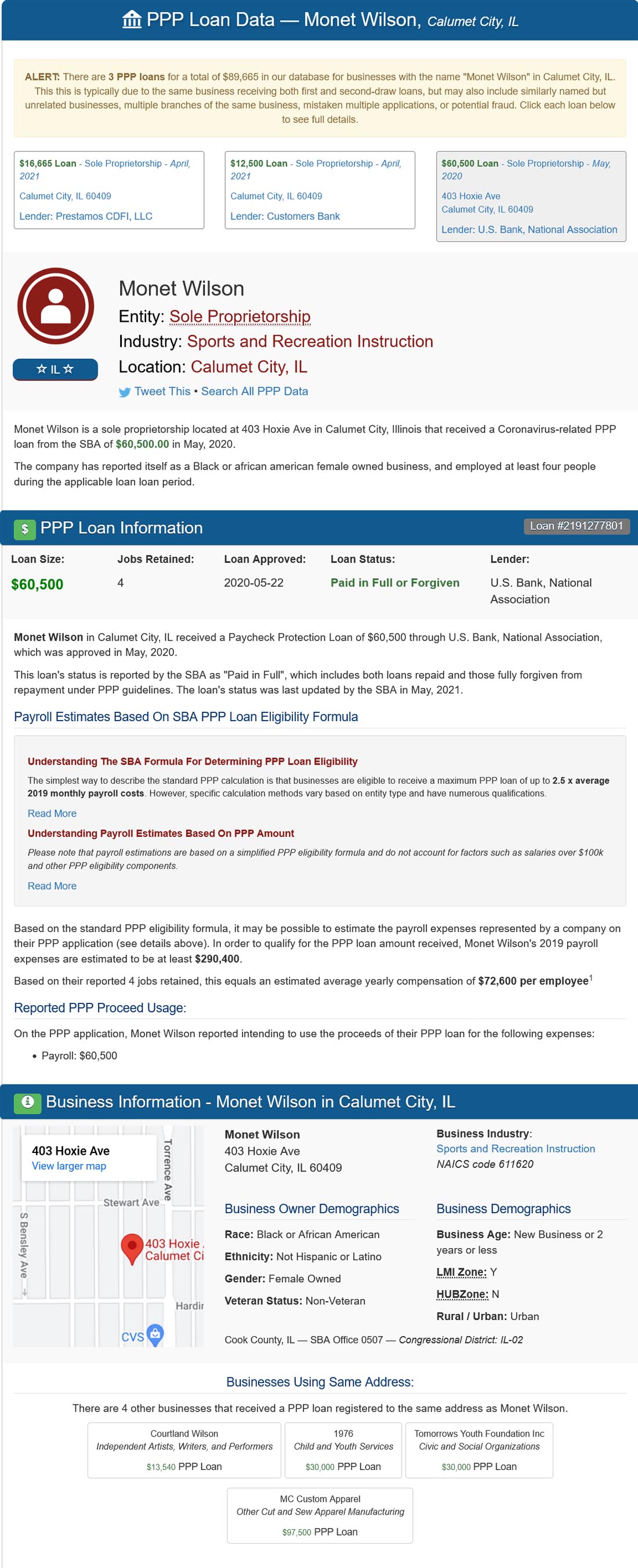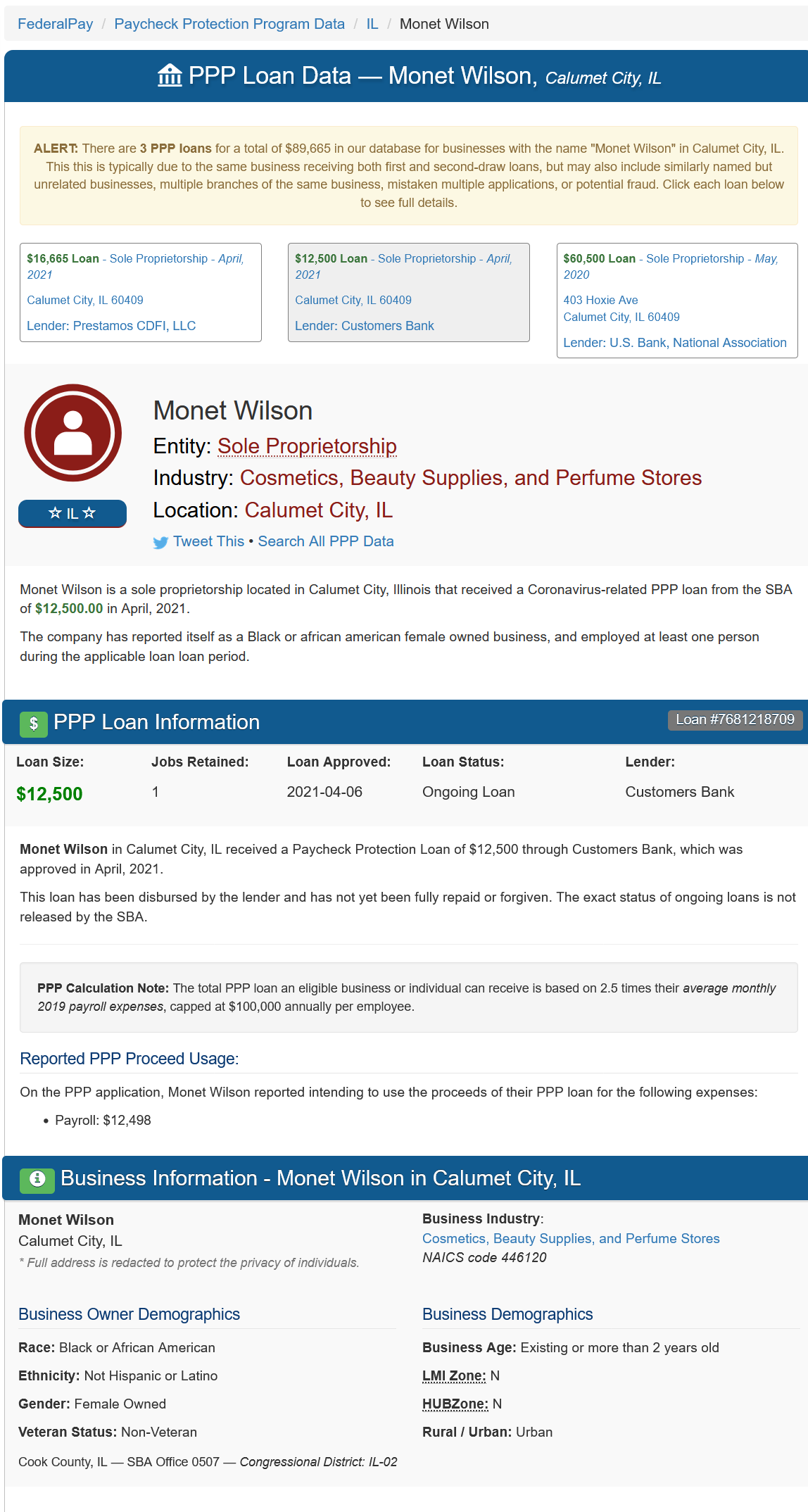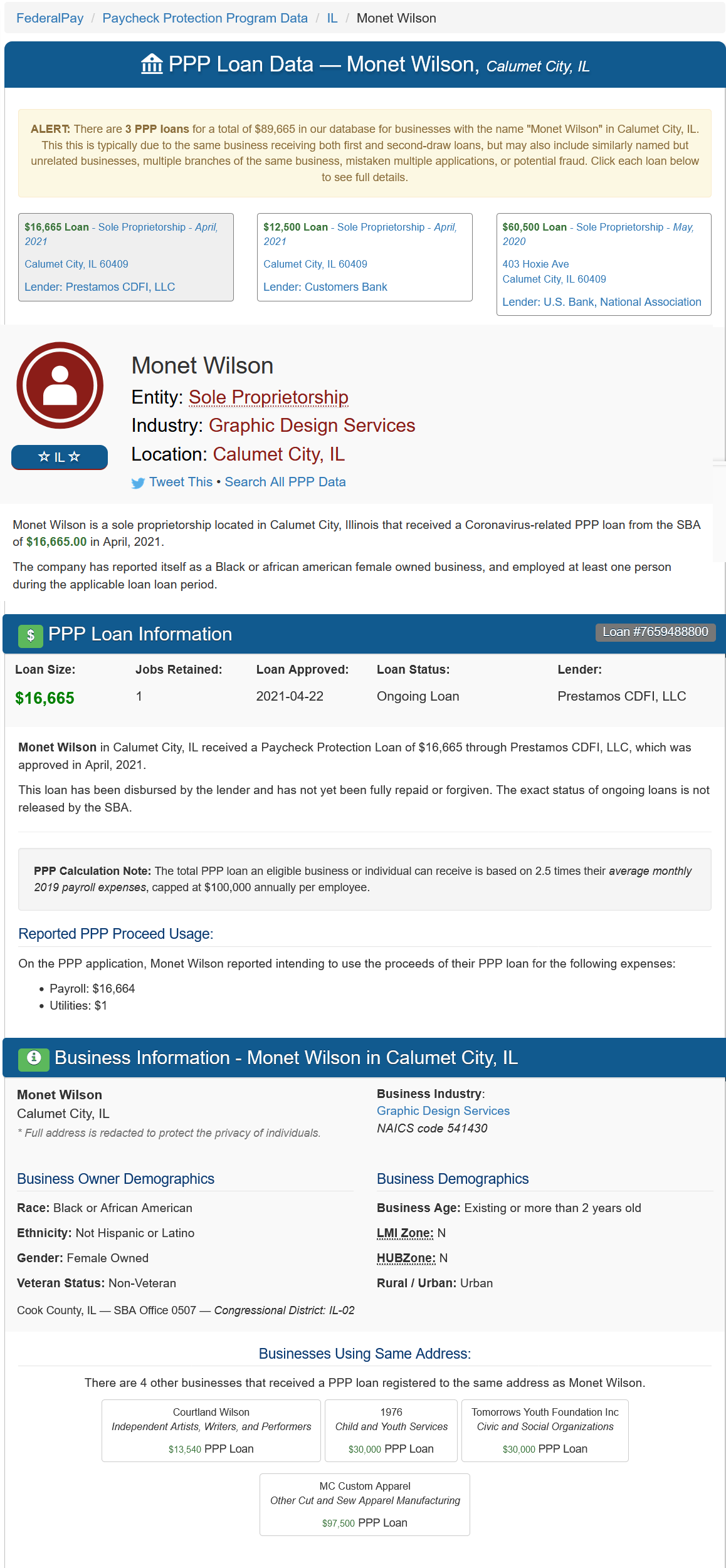 https://www.pppdetective.com/?city=Calumet%20City&name=Monet%20Wilson